Wondering what happens when different types of wood & Items Made from Wood get wet? Is wood ruined if it gets wet?
In this guide you will learn:
What happens when Hardwoods or Softwoods get wet,
Problems with wet Furniture, Particleboard, MDF , Plywood & OSB,
Acceptable Moisture levels in Different woods,
How to Prevent wood from getting wet & absorbing moisture.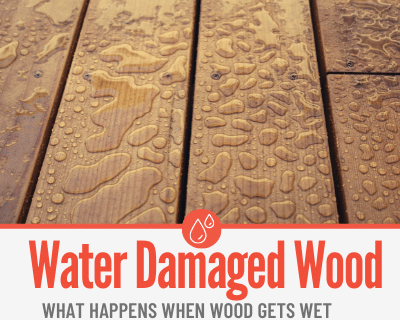 What Happens to Wood When it Gets Wet
Unfortunately, water damage can happen to any item that's made out of wood if it gets wet and if it isn't properly finished/protected.
This will largely depend on the amount of water/moisture and how long it has been allowed to absorb the moisture.
If solid hardwood or softwood is allowed to get wet and it remains wet for a longer time, that's when you should begin worrying.
In the worst case, this can cause the wood to start rotting.
However, the good news is that in most cases the moisture content of the wood needs to be at least 20% for wood rot to begin and it needs to remain wet/moist for a considerable amount of time.
When wood rot sets in, the first thing that happens will be the growth of mold and fungus. Over time, this will slowly eat away and destroy the wood.
In addition to wood rot, water can also cause damage to wood in other ways.
For example, water can get into the pores of the wood and this will cause the wood itself to expand or crack.
If water on wood is left for a long time, this can also cause wood to stain!
For Man-made wood materials such as Plywood/ Particleboard /MDF / OSB , water damage can set in much much faster and there's not a whole lot you can do to these materials once they get water damaged!
This will result in Swollen / Deformed furniture in case of Particleboard /Plywood or even cause structural issues of your house in case of Plywood/OSB.
If Wood furniture gets wet it can get ruined depending on the type of furniture and material the furniture is made from.
For solid wood furniture such as a solid wood Table made from Pine or Oak, even if it gets completely wet or is allowed to stand in rain it can be easily restored in most cases.
When Furniture Gets wet stains can appear even if it's light water damage.
If the furniture is made from man-made materials such as MDF , if it gets wet and you see visible bubbling or deformation in the furniture, there's not a lot that can be done to such water damage and they will be ruined!
Related: How to Remove Moisture from Wet Wood
Effects of Water Damage to Different Types of Wood
Different types of wood have different properties when it comes to water resistance and how water will affect it.
Some types may be perceptible to damage more so than others. Some common types of wood that may be in your home include.
Hardwood
Usually, hardwood in your home will likely be in form of hardwood floorings or hardwood countertops.
In this case, what happens when hardwood floors get wet is that they might begin to lift and buckle.
Water can also cause stains to appear if it's left on the floor for a prolonged time.
In the case of hardwood countertops, water damage will be the most common around the sink.
This can cause various stains to appear, with prolonged exposure your countertops might even begin to start rotting around the sink area.
If water is allowed to stand on either your Floors or Countertops it will soak up in your hardwood and cause the structure and fibres of the flooring or countertop to deform.
Softwood
Softwood usually is used in wood panellings, trims & decks.
Softwood also will be used as the main building material of your house structure in form of studs, Pine and Fir is the most commonly used for this.
Softwood will have nearly the same properties as hardwood when it comes to water resistance and durability.
The only major difference is that some hardwoods are more mold-resistant than softwood!
If untreated softwood gets wet, it can be dried out in most cases without significant damage/deformation.
Only prolonged exposure to water will damage it and cause stains, discolouration, warping and wood rot.
If for example studs of your house get wet due to leaks inside your walls, they can also start to warp and deform, this will be most often seen as deformations in your wall.
In the worst-case Mold can even start to grow on the studs and in the structure of your home!
If treated softwood such as usually used in decks and outdoor furniture gets wet, it can warp/expand as well, however it will be much better protected against wood rot setting in.
Particleboard
Unfortunately, due to its porous qualities, Particle Board is way more likely to be easily water damaged than hardwood or softwood.
Particleboard is the worst wood material when it comes to water damage due to it being made from pressed and glued wood chips.
This can become really problematic if Particleboard is used in subfloors and they get water damaged.
Particleboard is most often used in furniture as well as a cheap alternative to plywood where structural integrity isn't crucial.
If particleboard gets wet, it will deform, swell up, and break down!
There is usually nothing that can be done to save wet particleboard!
MDF
MDF is most often used in kitchen cabinets/furniture.
Similar to Particleboard , MDF is also made from wood chips, although much much much smaller ones the size of wood dust.
To help MDF be more water-resistant it will be coated in a layer of melamine.
Without this Layer of Melamine, it would be even worse when it comes to water damage even when compared to Particleboard!
If the layer of the Melamine gets damaged, MDF can start to soak up and absorb the moisture.
This will result in bubbling, edges of melamine coming apart and in the worst case the MDF board breaking down once the MDF gets wet!
Plywood
When plywood gets wet and is not dried out fast enough it will absorb the moisture and will start to swell up similarly to particleboard , however not nearly as bad.
In addition to this, because plywood is often glued together from multiple layers, the moisture can cause the different layers to fall apart.
Wet Plywood can often be saved and dried out without much water damage,depending on how long the water has been allowed to absorb into it.
If Plywood gets water damaged and the layers haven't separated, it can be dried out, sanded and refinished quite easily!
OSB
Osb Is made from thin wood chips that have been pressed and glued together. Often used in subfloors or as an outer layer in framing.
Osb is also easily susceptible to long term water damage, however not nearly as bad as Particleboard.
If OSB Gets wet,the structure can also swell up & Deform.
Depending on the type of OSB and the grade of it, some OSB can be quite water resistant!
In the worst case, if left in rain for a very long time OSB can start falling apart.
---
Water Damaged Wood?
Call 844-994-1288 for a Risk Free estimate from a Licensed Water Damage Restoration Specialist in your area.
We Can Help Dry Out Floors , Structural Wood & Repair any Water Damage caused.
---
Acceptable Moisture Levels in Wood
Some are better able to withstand a certain amount of moisture than others.
Depending on what kind of wood you have, you may not need to worry as much about excess moisture.
Hardwood & Softwood
Fresh hardwood and softwood usually have around 35-40% moisture content.
Once Kiln dried & ready to be used either in construction or woodworking the moisture content will be around 6-20%.
For construction lumber such as in the studs of your walls the acceptable moisture content will usually be around 8-16% before it can be used.
Slightly More ,up to 20% , if it's meant for outdoors.
With time this will usually dry out even more and settle at around 8-12% depending on the Season.
If the moisture content in your studs/structure in your house is above 18%, this is when you should start to worry!
For Furniture making & for hardwood floors the acceptable moisture content will be between 6-12% depending on the exact use.
If for some reason your moisture content of hardwood floors gets above 15% you should investigate immediately as this can cause damage to your hardwood floors!
Particleboard
Particleboard will have similar Acceptable Moisture levels that of a MDF, at point of manufacturing this will be 7-10% , the maximum acceptable level in your home should be anywhere up to 15%
If the moisture content of your Particleboard gets above 18-20% ,this is when you should start to worry and find the cause.
MDF
At the point of manufacturing, the moisture content of MDF will be around 7-10% , the acceptable level is anywhere up to 14%.
If the moisture level in MDF gets above this, you should investigate immediately as this will cause your MDF to start deform and swell up!
Plywood
The acceptable moisture level in plywood can be up to 22% depending on the usage scenario.
For Indoor subfloors, the moisture content of plywood should be no more than 15%. If it gets above this, you should investigate as to why!
For furniture making, the acceptable moisture level in plywood should be between 6-11%
OSB
The acceptable Moisture level for OSB is up to 19%.
OSB compared to MDF or Particleboard is much more durable when it comes to water damage and being damp proof.
Most OSB grades are generally excellent at resisting light temporary water spills and won't soak them up due to the glue used in making OSB being waterproof.
It's best to check the exact grade of your OSB boards as some are not as good as others!
How Long Does it Take For Wood to start Rotting?
If you are wondering how long will it take for wood to rot from water, this will largely depend on the situation and the type of wood you have.
Outdoors, if the wood is not treated, not protected at all and has gotten completely waterlogged the first signs of rot can appear within a couple of weeks!
Outdoors ,if the wood is treated, this will give you much more time, up to half a year before any signs of rot start to appear even if the wood is completely soaked all the time!
Exposure to Dirt and Humid weather will speed up the process!
Indoors in case of a leak in a wall, it might take around 3-6 months before any signs of Rot start to appear in your house structure.
This will again largely depend on the size of the water damage and humidity levels in your house.
Protecting Wood From Getting Wet
Protecting your wood from moisture damage depends largely on where the wood is in your house.
For wood that is indoors on a table or on the floor, you can protect it with an extra layer of sealant though oftentimes it is already protected.
You can also paint a layer of sealant on outdoor wood as well.
Also, consider using a tarp to cover it up from rain or snow in case of any outdoor furniture.
For wood that's hidden in the structure of your house, make sure you have any holes or cracks in your walls and floors fixed so no water drips down onto them.
This is especially important when it comes to bathrooms, as it's common for joists of your bathroom floor to start rotting from shower leaks.
Any Leaky Pipes should be fixed straight away as well!
When to Call a Professional?
Wet wood should not be left unattended or allowed to stay wet as this can cause massive problems and considerable water damage.
If you have a flood situation and there is a lot of water to remove it's essential to contact a professional water damage restoration company that has the equipment and skill to remove the water fast enough and dry out the affected areas.
This can prevent & minimize any water damage that the water can cause if done fast enough!
They can also repair any water damage caused that might be too much for you to take up yourself.
We have Water Damage Restoration Technicians that can help Remove Water from your Wood & Completely Dry it out.
For Disasters of all Sizes,available in 95% of the USA